Mystic Valley Elder Services (MVES) presents events each year that gather our supporters to enjoy each other's company, raise funds for unfunded and underfunded programs and services for your neighbors in need, and celebrate our mission of providing independence, dignity and support to older adults, people with disabilities and their caregivers.
For more information about the benefits of sponsoring an event or to be added to our mailing list, please contact us at 781-388-4802 or development@mves.org.
Spring for Independence 2024: Save the Date!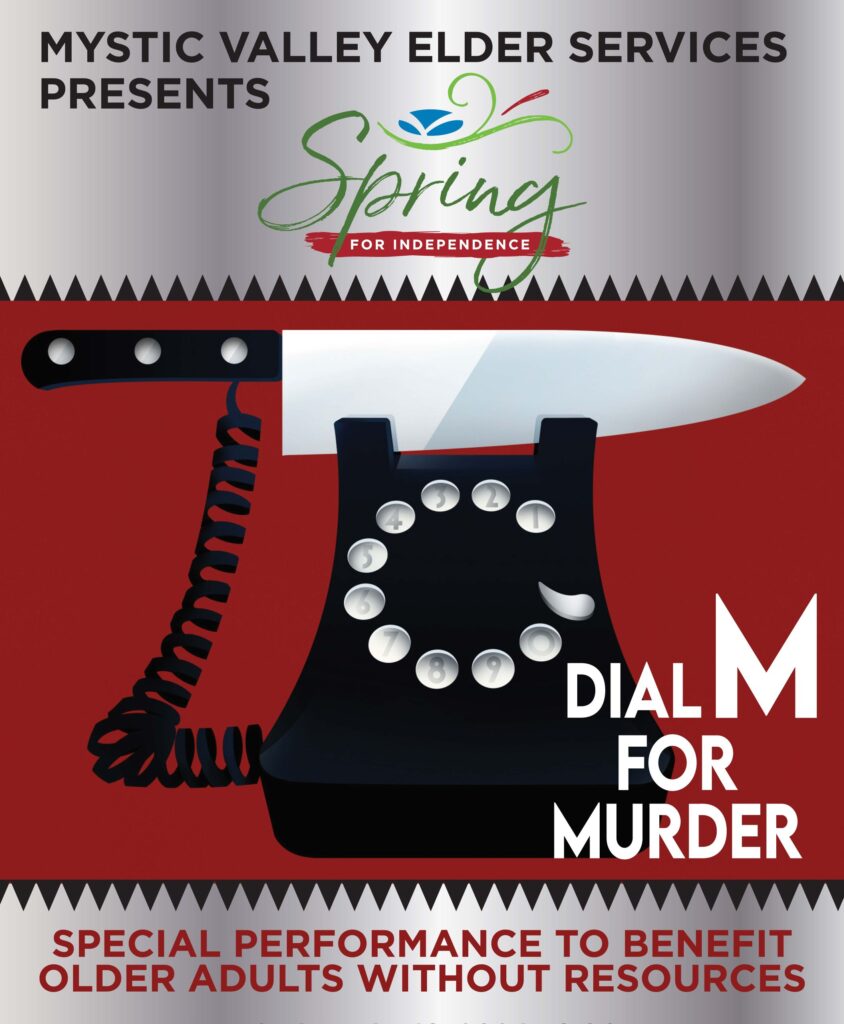 MVES will present the next Spring for Independence fundraiser on Thursday, May 16, 2024, at Greater Boston Stage Company, 395 Main Street, Stoneham. The show will be "Dial M For Murder," a new version of the celebrated murder mystery. Classic film fans will recognize the title from Hitchcock's 1954 hit movie of the same name, but the story started out as a successful play. An updated version of the play hit the stage in 2021, unveiling a suspenseful cat-and-mouse tale of betrayal and murder.
The evening will begin at 6 p.m. with a pre-show reception with complimentary cocktails and hors d'oeuvres, followed by the show at 7:30 p.m. Ticket price: $80 each. Please click here to buy tickets or to sponsor the show. For more information, including the benefits of sponsorship, please contact our Development Department at 781-388-4802 or development@mves.org.
Spring for Independence 2023
Our 17th annual Spring for Independence celebration, "Beehive: The '60s Musical," was a rockin' success! Guests had a wonderful time watching this dance-filled musical, which included dozens of beloved hits from some of the most popular female musicians of the era. We were able to net over $150,000 for underfunded and unfunded programs thanks to all who attended, our partnership with the Greater Boston Stage Company and our sponsors. Special thanks to our 2023 Lead Sponsors: Agero, John & Wendy Pereira, and StonehamBank. Please visit our Facebook page to view a photo gallery from the event.
Bellyful of Laughs
Our popular comedy fundraiser, Bellyful of Laughs, is on hiatus for 2024. For updates on this long-running show and other events, join our mailing list by contacting 781-388-4802 or development@mves.org, sign up for The Beacon newsletter at the bottom of this page, or follow us on social media. Thank you again to all who have supported MVES over the years by attending and sponsoring Bellyful of Laughs!
Events may be photographed or recorded. By attending an event, you grant MVES the right to use your name, image, and statements, as recorded and/or photographed, to promote MVES and release MVES from all liability associated with the use of your name, image and statements.
*Contributions are tax-deductible to the extent allowable under IRS regulations.